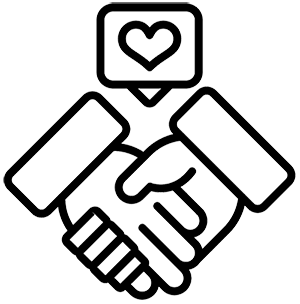 At Bliss Chapel, we believe that creating exceptional wedding experiences goes beyond our own expertise and offerings. That's why we have hand-selected a network of trusted vendors and partners who share our commitment to excellence, and help take the guesswork out of where to go for all of your ancillary needs to make your big day even more remarkable. We are proud to introduce these esteemed partners who enhance and complement our services, ensuring that your wedding day is nothing short of extraordinary.
Bliss Chapel proudly partners with Quilted, a digital keepsake company dedicated to bringing loved ones together to share their favorite memories about you. Quilted brings a fresh twist to a traditional wedding guestbook by uniting your loved ones in an interactive, digital experience. Gather heartfelt messages, cherished stories and well-wishes from friends and family, regardless of their location. Whether or not they'll be in attendance for your big day, they want to celebrate with you. Videos and photos are woven together into a keepsake Digital Wedding Guestbook to enjoy for years to come. The discount code BLISS will give you 20% off any package you select! Visit Quilted to learn more, or call 1(888) 918-4883.
Lip Smacking Foodie Tours
Bliss Chapel is thrilled to partner with the city's award-winning culinary walking tour company Lip Smacking Foodie Tours to bring you and your guests superlative VIP service and the best signature dishes, unique preparations and exciting tastes of Vegas. Each tour is led by a professional guide who will bring you and your guests a unique culinary experience you are sure to never forget! Read more here about the special package brought exclusively to you as a Bliss Chapel couple: Lip Smacking Foodie Tours Partnership
As Las Vegas' largest wedding dress rental store, you are sure to find the incredible one-of-a-kind wedding gown and tuxedo you're envisioning for your big day with Creative Bridal Wear. They are dedicated to providing brides and grooms with an incredible selection of wedding day attire including formal wear rentals as well as dress steaming. Learn more about Creative Bridal Wear and contact their exceptional staff at 702-586-2281.
For all of your Hair, Makeup, and Spray Tan Services, Bliss Chapel recommends the exceptionally talented team of seasoned Master & Professional Stylists with Glam Squad 702. Their award-winning beauty experts have you covered and are dedicated to making your vision a reality so that you feel beautiful inside and out on your special day. Learn more about Glam Squad 702, or contact them at ​​702-451-4524 to book them for your Bliss Chapel wedding today!